A Life Changer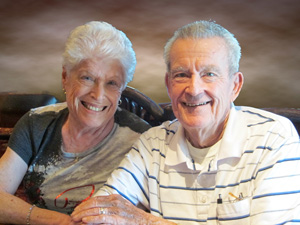 For Kathleen and Clifford Pooler, the years following Cliff's 2001 liver transplant at CPMC were a gift. "They counted each year as a victory for themselves and their transplant team who, along with the VA medical staff, watched over Cliff," says Mary Scully Edholm, Kathleen's sister and the trustee of her estate. "They were determined to pay forward the 11 more years they had together by remembering CPMC and the liver transplant team in their trust."
"After Cliff died from kidney failure in 2012, Kathleen honored Cliff's wish through her own trust," says Mary. Sadly, Kathleen died just three years later.
She left legacies to her siblings and the remainder to help CPMC patients receive a liver transplant that they might not otherwise be able to afford: more than $100,000 in cash, plus a $169,000 promissory note secured by a deed of trust on a property. Without touching assets or cash flow during their lifetime, Cliff and Kathleen Pooler had made a significant philanthropic investment to save lives in the future.
Kathleen's siblings—Mary and her husband Tom; sister Peggy and her husband Michael; and brother Tom and his wife Fran—wanted to carry out her wishes in a personal and meaningful way. So they traveled from Fresno, Sacramento and Santa Cruz to hand-deliver the check to CPMC Foundation and the grateful doctors who represented Cliff's liver transplant team: Adil Ed Wakil, Raphael Merriman, and Stewart Cooper.
Mary says, "It was a great worry of Kathleen's after Cliff's transplant to deal with the co-pays and other expenses not covered by insurance, and it was her hope, and ours, that this will benefit several families of liver transplant recipients, to take some of that worry away and to let them concentrate on their loved one."
This poignant act carries forward the memory and influence of the Poolers, who wanted to make a gift of life.