Meet Our Donors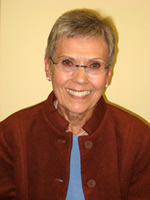 Joye L. Wilson
A Grateful Patient Helps Others Through Generous Planning
Although she travels close to 30 miles for routine medical appointments—from her home in San Lorenzo to California Pacific Medical Center in San Francisco—Joye Wilson wouldn't have it any other way: "CPMC takes care of all of my health care needs," she explains.
Joye and her husband came to San Francisco in 1968. The couple found doctors in the City and preferred to remain with them, even after they relocated to San Lorenzo. Following her husband's death in 1993, Joye continued to drive or to take BART for CPMC's services.
When she was diagnosed with breast cancer in 1998, Joye was gratified to discover "a world of help" through the Breast Health Center. "The center provides everything you need to cope with your diagnosis. The support is incredible," she recalls.
An Active Survivor
Today, Joye is a nine-year cancer survivor who leads an active and stimulating life. Although she visits San Francisco often to attend the theater and to view exhibits at the museums, Joye also devotes time to East Bay activities: Taking in local theater productions and volunteering at the Oakland Museum's White Elephant Sale are among her favorite pursuits. She finds adventure beyond the Bay Area as well, touring Japan, Europe, China, Peru, Vietnam and Tibet.
Appreciation for Continuing Care
Joye credits the "extraordinary level of care" she continues to receive at CPMC for the vibrant health she experiences today. Keeping fit and healthy is a top priority for Joye, and she finds that the Medical Center provides ample support as she strives to do so. In particular, she cites the Center's magazine Beyond Medicine and the "lovely lectures" it brings to her attention. "I get a wealth of information from CPMC," she explains.
Giving Back
In keeping with her upbringing—"I was raised to share, to give to others"—Joye believes in saying "thank you" for "the wonderful life" she enjoys. She has been an annual supporter of CPMC since the late 1990s.
In addition, Joye joined the Foundation's Legacy Society in 2003, when she named the Medical Center as beneficiary of her retirement plan. Most recently in 2006, Joye named CPMC a beneficiary of an insurance policy and then established a charitable gift annuity benefiting the Breast Cancer Recovery Program.
"Making these gifts has given me a feeling of security," Joye states. "I enjoy knowing that whatever assets I have will be used to provide some good fortune for others."
First published in 2008