Meet Our Donors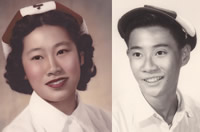 Drs. Serene and Ronald Low
Generosity Heals: A Legacy of Caring for Children
Families with premature babies born at CPMC will soon have access to a new parent mentor program being created by generous estate gifts from two local pediatricians. In addition to benefitting the Newborn Intensive Care Unit (NICU), these separate gifts from Serene Low, M.D., and her brother Ronald Low, M.D., will also help underwrite three CPMC pediatric conferences.
Both of the Lows passed away in 2011 and left no specific plans about how their gifts to CPMC should be used, other than going to pediatrics. So last year, department chair Lorry Frankel, M.D., discussed with family members how the gifts could make the biggest possible impact. Ultimately, they decided upon medical education and support for parents with premature babies.
Dedication to Community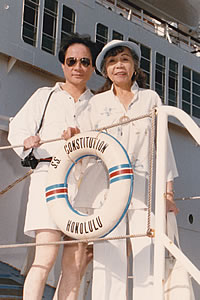 Like their father, Dr. Chin Y. Low, both Serene and Ronald chose medicine as their profession. They joined the CPMC Pediatrics staff in the 1960s and enjoyed long careers in San Francisco that spanned four decades. In addition to their father's guidance, they credited much of their success to their mother Clara's unwavering love and support.
They shared a practice in Chinatown and were known as humble, compassionate practitioners who were always available to their patients. According to their cousin Bob Seto, "Their door was never closed—they were on call 24/7 and often followed up with in-home visits to make sure patients were doing well."
Serene was active in both the San Francisco Medical Society and the California Medical Association. Ronald volunteered with the Chinese Community Health Care Association and sat on the admissions committee of the UC Berkeley Medical School. Serene also volunteered with the Chinatown YWCA and San Francisco Chinese Parents Community Schools, while Ronald devoted much time to Project Head Start and the YMCA. Both volunteered at St. Anthony's Dining Hall.
Helping Children and Pediatricians
The Lows' gifts to the NICU will be used to train mentors, who will help parents of premature babies cope with this immensely stressful time in their lives. "These babies are tiny," says the program's medical director, Terri Slagle, M.D. "Often they weigh less than three pounds and may be dealing with extremely complex and difficult conditions. Having a mentor program staffed by NICU nurses, a psychiatrist—and most importantly, by parents who have had a preemie before and know first-hand what it's like—will be tremendously helpful to the entire family."
As for the gift toward medical education Dr. Frankel says, "These funds will be crucial in helping us bring in more highly skilled, nationally recognized speakers." One of the conferences covers general pediatrics, one is for pediatric specialists, and one is for physicians who work full-time in hospital pediatric wards. Altogether, the Lows' gifts will benefit approximately 300 physicians who attend the conferences every year—and by extension, their thousands of pediatric patients.
"Generosity… is Humbling"
The Lows' cousin Bob Seto says the main reason Serene and Ronald made their bequests was to continue having an impact on the community long after they were gone. "They felt very strongly about that," says Bob. "They would be extremely happy to see how their gifts are being used."
"The generosity shown by Serene and Ronald is humbling," says Dr. Frankel. "These are much-needed services, but until now, we didn't have the necessary funding to support them at this level. So we are talking about more than just a gift of money.
"This is a gift of compassion to families with premature babies, and a gift of knowledge to the physicians who care for our children. If you want to help create a healthier community for kids, you can't do much better than that."
First published in the newsletter "Remember CPMC," spring 2014.