Meet Our Donors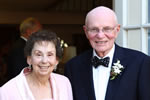 Carl Mehlhop
This article on the late Carl Mehlhop was first published in 2010.
"It's a Way of Giving Back"
Last year Carl Mehlhop decided to name California Pacific Medical Center as a beneficiary of his IRA. His reasons for leaving a legacy gift are as straightforward as they are poignant. Certainly gratitude for the care his family has received over the years ranks high. But, the nature of this gift reflects a deeper connection to humanity. He appreciates his blessings in life, and he gives back for the benefit of others.
Born in Dubuque, Iowa, and residing in Contra Costa County, Mr. Mehlhop has many successes in his personal and business life. He has represented Northwestern Mutual since 1948, a remarkable act of loyalty, and has earned long-standing professional recognition for his achievements.
His devotion to community reaches wide, from his alma mater the University of Michigan (past president of the alumni club) to the University Club of San Francisco (past president) to the Mt. Diablo Council Boy Scouts of America (counselor) to his church (foundation trustee) to the U.S. Marine Corps Reserve (retired officer). He participates in life, and enjoys ballroom dancing, the theatre, cross-country skiing and spectator sports.
As a successful life underwriter and financial consultant who guides others in obtaining financial security, Mr. Mehlhop is uniquely positioned to witness the crucial role of charitable giving in our communities. He chose a legacy gift for CPMC that satisfies his own personal, financial and charitable objectives. Such leadership follows the moral value: when fortunate, be mindful of others. In response to our questions, Mr. Mehlhop offers his own words on giving to CPMC...
Why is supporting exceptional health care a priority for you?
"First, it's a way of giving back to health care providers, such as CPMC, for all I have received: diagnostic tests, surgical procedures, bedside care provided by caring professionals. All of these have been given to me, along with the births of my three children, six grandchildren, and two step grandchildren. Isn't it the right thing to do? Second, my business life has been closely involved with efforts to promote healthy, fulfilling lives. Health care providers take the lead in these efforts."
If you could tell people one thing about CPMC, what would it be?
"My short description of CPMC would be a facility dedicated to alleviating pain and saving lives; the services provided by dedicated, caring professionals."
Why did you leave a legacy gift for CPMC?
"My legacy gift is intended to provide an income stream, allowing CPMC to continue in its mission of serving humans in perpetuity. I hope it sets an example for others."
Why was a bequest from your IRA plan the best gift for you?
"A bequest from my IRA was the best gift for me as it provides the income I know CPMC will always need. No sacrifice of income during my senior years is required. Tax-wise, the IRA would all be in my taxable estate on death. With CPMC as the beneficiary, the asset is outside my taxable estate. Were the IRA to be left to my wife, children and grandchildren, each of them would pay tax as the income was received. CPMC will pay no income tax on receipt."
How does it feel now that it's done?
"Having made this gift, it gives me a good feeling of satisfaction for a job well done."