Main content
Meet Our Donors
Meet Our Donors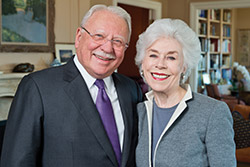 Dr. Bruce & Amanda Spivey
Committed the Whole Way
When Bruce Spivey, MD, MEd, MS, accepted the job of CEO at what was then Pacific Medical Center (PMC) in 1976, he had no idea of what he was about to face. "The day I took over we were cash-on-delivery with our vendors on the loading dock," he says. "I actually paid money out of my own pocket for bread delivery. That's how tight things were."
Prior to taking the position, Dr. Spivey had enjoyed a successful career as an ophthalmologist, including five years as department chief at PMC (a position he continued to hold even as CEO until 1987). When he realized the reality of the situation, he did everything he could to facilitate physician success. "We in leadership made a commitment to the physicians — we listened to them, involved them and valued their opinions," he says. "We soon developed a collegiality that truly felt as if we were building something important together."
Philanthropy Can Make a Difference
During his tenure, Dr. Spivey also recognized that philanthropy was another crucial way to strengthen the Medical Center.
"We needed the financial support of the community to be more than just a good hospital," says Spivey.
With the leadership of Jean Doyle and Betty Peters, he helped create CPMC Foundation in 1991.
"Philanthropy was important back then, but it's even more crucial now," he says. "Reimbursements are shrinking and the financial margins hospitals used to enjoy just simply won't be there anymore. Philanthropy can make the difference."
A Loyal Friend Gives Back
By the time Dr. Spivey stepped down from his post in the early 1990s, the hospital was considered one of the strongest private medical facilities in the Bay Area. It's worth noting that during his tenure as CEO, he was also the first CEO of the American Academy of Ophthalmology (1976-1992), as well as CEO of California Health Care System (1986-1992). Later in his career he helped create and lead new healthcare systems for Northwestern University in Chicago and Columbia/Cornell Universities in New York City.
Over the years Dr. Spivey has remained a loyal friend, having made more than 135 philanthropic gifts to CPMC Foundation. He and his wife Amanda also recently joined the Foundation's Legacy Society by placing us in their living trust and retirement plan.
When asked why he joined, Dr. Spivey replied without hesitation. "For physicians, the hospital is your workshop. So if you care about where you work, I feel you have to give back — and if you're committed to something, you ought to be committed the whole way."
---

Invest in expert care with a human touch:
Cancer Care | Women's Health | Children's Health | Neurosciences | Cardiology | Research